LinkedIn is the perfect place to do valuable PR work for you and your company.
Using a well-crafted Linkedin headline (profile) you can position yourself as a thought-leader and industry expert, right in front of your target audience.
This is how you create a winning LinkedIn headline.
For many PR professionals, or people looking for public relations jobs, LinkedIn is the place to build their personal brand.
Others use it as part of their public relations campaign for clients, maximising the potential for getting important brand messaging out there.
There are so many ways to use the platform and your profile to stand out and get noticed. Plus, given how many people use LinkedIn, it's a vital place to be present and active.
The best thing? It's free PR and most of your media list will be on there too.
However, if you want to make an impact straight away, you need to make sure your LinkedIn headline stands out. It should be an attention grabbing headline for all the right reasons.
As one of the most visible parts of your profile, the LinkedIn headline needs to be perfect – it's just as important as knowing how to post an article on LinkedIn.
In this guide, we are going to take you through the best practices for LinkedIn headlines.
You'll discover what they are, how to use them and some valuable tips on things to avoid.
Follow our advice and you can turn a drab LinkedIn headline into a winning piece of digital collateral for your marketing communications.
What is a LinkedIn headline?
 Go to your LinkedIn profile, or look at someone else's if you haven't set one up yet.
You'll notice that just under your picture and name (or the profile owner's picture and name) there is a space – of 120 characters – where you can describe what you do. This is your LinkedIn headline.
Your LinkedIn headline is the most visible part of your profile, aside from your photo and name. Given how prominent it is, you must make sure you use the space effectively.
Many people simply put their current job in their LinkedIn headline, but that's a mistake. While it's good to use job title keywords or namecheck a well-known and respected company, it's a real waste of the space.
We are going to show you how to use this part of your profile to catch people's attention, engage your target market and make an impact straight away.
Why do you need a LinkedIn headline?
 Your LinkedIn headline tells people what you do – but it can be used to communicate so much more.
The critical thing about your LinkedIn headline is that people will see it in multiple areas of the platform.
First off, it's in the top-half of your profile.  When people visit, they will see it without having to scroll down the page, so it's prime digital real estate.
It's not just on your profile, but when you create a post, it'll appear at the top, under your name. If you comment on somebody else's content, it'll show up again.
When you publish a LinkedIn article, it is displayed at the top as part of the author details. If someone tags you, their readers will see it too.
Given how visible and vital it is, this is not space to waste on your LinkedIn profile. Use it to communicate the most important things people should know about you and your work.
With smart content you can utilise it to achieve your PR goals and strengthen your personal brand.
The benefits of LinkedIn for PR
LinkedIn is the social media platform for professionals to share ideas and make connections. It's business networking online, so you want to make a good impression.
LinkedIn gives you a platform to talk about your industry, your work and provide comment and advice on key issues.
Many business leaders use it as a place to communicate their latest thinking with a wide audience.
Being a thought-leader is great for your business. You can become well-known in your industry as an expert with your finger on the pulse. Plus, you can make yourself relevant in the big conversations happening in your area.
Remember, anyone can find content on LinkedIn by connecting and/or following professionals and companies. They can also search for keywords that relate to the areas you are interested in.
In PR terms, this is solid gold.
With so much opportunity for exposure, your LinkedIn headline need to work for you. It should communicate your work and deliver impact straight away.
The LinkedIn headline limit of 120 characters is a blessing – it forces you to be concise and targeted.
What should I include in my LinkedIn headline?
There are four things you need to ask yourself when you are crafting your LinkedIn headline.
What is your USP
Who is your target audience?
Which keywords are most important?
What should people know about me?
Let's break them down.
1. What's your USP?
Unless you have a job that is totally unique, it's likely that plenty of other people hold the same title.
If you are Head of Sales or Marketing Manager, you know there are many professionals in the same roles. They'll also be writing those job titles in their LinkedIn headlines.
This is where you need to be clever to stand out. You need to figure out what makes you different.
What benefits do you customers get from working with you? What is the measurable goal you provide?
Instead of simply describing your job, you can showcase what your work means to your clients. By highlighting the benefits of working with you, you can attract new leads and boost your reputation.
So, what is it that makes you unique?
Let's look at some clever people who are already making the most of their LinkedIn headline.
Jen Selter is a social media influencer with a huge audience and a terrific grasp of PR. She knows how to tell people exactly why they should want to work with her.
You'll notice that in her LinkedIn headline, Jen is all about measurable results. She explains exactly how many followers she has and the growth rate of her social media channels.
For people wanting to work with her, it's a no-brainer. That kind of reach and influence is exactly what any brand or advertiser would be looking for.
For influencer marketing projects, Jen is a no-brainer.
Jen has also included her job title – 'Social Media Influencer', the name of her company – 'Jen Selter, Inc' and another keyword – 'Entrepreneur'.
Nobody could be in any doubt of why they should work with Jen, what she can offer and the PR value of her platforms. It's one of the best public relations examples.
Now we've looked at Jen's LinkedIn headline, let's think about yours.
What is the value that you provide to your target market? What benefit will they get from working with you? Can you offer them measurable results?
If somebody asked you to sum up your USP in a single sentence what would it be?
Let's look at another example, one that isn't even real but proves the point concisely.
We need to talk about Han Solo's LinkedIn headline.
If you've seen the Star Wars films, you know that Han Solo is a man who is not afraid to blow his own trumpet. However, he does have good reason to be proud of himself. If we avoid the bluster and stick to the facts, his LinkedIn headline will be pretty impressive.
Let's consider what the best use of that space would mean for his personal PR.
Han Solo's LinkedIn headline should read like this.
Pilot of fastest hunk of junk in the galaxy | Did the Kessel Run in less than 12 parsecs | Decorated Rebellion General
We all know that Han Solo's Kessel Run record is his proudest achievement, but it's also measurable because we know how many parsecs he travelled. Who else can make such a claim?
He also mentions his medals from the Rebel Alliance. We assume Han doesn't want to work with imperials these days, so he's narrowing his target market perfectly here.
So, it's time to ask the question:
2. Who is your target market?
Identifying and showcasing your USP is vital, but you should also know who you are targeting.
Are you trying to attract potential clients, are you trying to recruit new staff members, or do you have another purpose?
Whatever your PR goal is, you should try to incorporate it into your LinkedIn headline.
Let's look at a professional who has done that brilliantly. Meet Shay Rowbottom.
Shay knows exactly who her profile is targeted at. She provides video coaching for individuals and companies. Those people will benefit from working with her because her work helps 'generate growth, leads, and revenue on LinkedIn'.
This LinkedIn headline is clear. Work with Shay and you or your workforce can become 'content creating machines'.
There's no ambiguity about who she is speaking to and what she wants them to do. Shay is looking for leads and she wants them to DM her.
If she was trying to recruit people to join her company, she'd no doubt be adding in a 'We're hiring' message in this space. So, if that's part of your PR efforts on LinkedIn, be specific.
Whatever action you want your profile visitor to take, you should include it in your LinkedIn headline.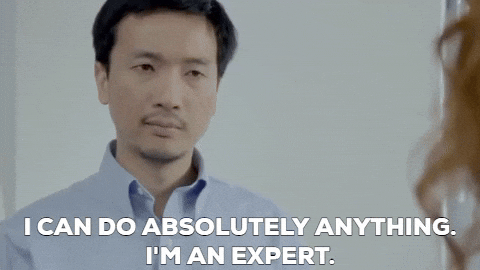 If you are a parenting expert who deals with sleep deprived toddlers, you might want to appear on more podcasts talking about your specialism.
Your LinkedIn headline would be the perfect place to make that fact known.
Here's an example of how you could use it:
Sleep Expert for babies and toddlers | Featured in Red, Mother & Baby and The Telegraph | Seeking new media opportunities
In this LinkedIn headline we've covered a lot of ground. We've got your job title, the area you specialise in, big brands who can add social proof to your work, and a direct request.
You've name-checked brands people have heard of for social proof. You've made a direct request.
Plus, you've made it easy for people searching for sleep experts who deal with childhood sleep problems with your keywords.
Speaking of keywords, that's the next consideration.
3. Which keywords are most important?
Remember that people are searching on LinkedIn using keywords related to the industry or roles they are interested in.
So, you need to make sure that it's easy for the right people to find you. That's why you must include the right keywords in your LinkedIn headline.
There are three categories of keywords you need to think about. Firstly, the keywords around your job title.
As a Marketing Consultant you might be interested in being contacted by people looking to recruit a Marketing Consultant in their business. So, you want to ensure the job title keywords are in there.
However, we all know that Marketing Consultant isn't specific enough when searching a social media platform as huge as LinkedIn.
So, you need to narrow it down. If you are a Marketing Consultant who works with retail businesses and specialises in working with fashion influencers be specific.
Your LinkedIn headline will read:
Freelance Marketing Consultant | Retail | I design campaigns for global brands using fashion influencers across North America and Europe.
By using all these keyword phrases you've made it much easier for someone searching for your skillset to find you.
Let's take another example.
You are an Executive Coach who works with leaders in the software industry to help them develop and improve their business culture.
Your LinkedIn headline could read:
Executive Coach | I help software industry leaders develop a company culture that boosts morale, productivity and profits | Book Your Zoom Session Today
This headline uses the job title keywords for you and the clients you want to attract, as well as keywords relating to your offer.
A word of warning – be careful with the keywords you use. Make sure that your headline reads well, and the keywords make sense in the context you are using them.
Don't just crowbar keywords in to try to pack your LinkedIn headline.
4. What should people know about me?
Your LinkedIn headline is not a place to boast, but it is a place to shine.
There's a fine line between bragging about your achievements and letting people know what you've accomplished.
If you've made waves in your industry and got recognised for it, don't be afraid to tell people.
Here's a great example – meet Vincent Phamvan.
As you can see, Vincent has got two really good credits – he's on the Forbes Council and one of the 40 under 40 influential young leaders as chosen by Fortune.
In his LinkedIn headline, Vincent has included those two pieces of information because they add valuable social proof.
Accolades from organisations like Forbes and Fortune tell you he's successful, exciting and going places.
But Vincent hasn't stopped there. He's also made it crystal clear as to how the work he does benefits others.
He's also used the LinkedIn headline to point visitors in the direction of his podcast, another piece of vital PR collateral.
Don't be a bragger
This LinkedIn headline is concise, clever and targeted. Vincent has used the space brilliantly.
You'll notice that Vincent has been very factual about his achievements and they check out. Sadly, some LinkedIn headlines are simply bragging.
You'll find plenty of profiles where people describe themselves as the 'best' or 'exceptional' or a 'gamechanger' with nothing to back it up. Empty bragging like this won't impress anyone.
Instead, you should concentrate on the achievements you can back up. Think about how you can prove your worth.
Let's look at Goldie Chan.
Goldie Chan uses her LinkedIn headline to let people know that she's a LinkedIn Top Voice in Social Media. She didn't give that accolade to herself, it was bestowed by LinkedIn.
The next thing she mentions is that Forbes have featured her in their Personal Branding and Storytelling content.
Finally, she adds the 'Producer's Guild' social proof to showcase that she's part of a professional group that's incredibly well respected.
Throughout her LinkedIn headline, Goldie uses social proof to demonstrate her competence.
In doing so, the people who visit her profile know that she's the real deal, not a pretender.
Now, let's think about your personal LinkedIn headline.
What are your professional achievements, who would vouch for you and what would that mean for your potential clients?
Have you got the backing of any high-profile brands?
Have you been featured in big-name publications or appeared on national or global media channels?
Do you belong to professional organisations that matter to your clients?
Have you won awards that your target market might have heard of?
Do you regularly produce a YouTube show, a podcast, a newsletter or blog that people can subscribe to?
Whatever it is that people need to know about you, try to include it in your headline.
Now it's your turn… 
There you have it, a guide to making the most of your LinkedIn headline.
It's now your chance to make sure you are using that space wisely.
All our tips will help you make sure LinkedIn is part of your Public Relations tool kit and featured on your PR plan. As a free platform with massive global reach, it's well worth spending time on.
By crafting a LinkedIn headline that includes keywords, targeted messaging, and social proof, you can reach your PR goals.
And if you're ready to take your PR work to the next level grab our PR Starter Kit.
Our must-have kit has every template, script, strategy and guide you'll ever need to do PR – all in one place.
Good luck!
---